Noticed how I haven't photographed my kiddos since I got back from Texas? I am a bad blogging mom. I admit it. But I have good reason. I've been working on something for YOU. It's a new little something that my business partner (from Beautify My Blog) and I have been working on. It's called
The Blog Guidebook
. It's a friendly forum for all bloggers, to help you connect with your interests, as well as showcase your personal blog(s). The Guidebook offers a free listing to all bloggers. And personal and business spotlights, as well as giveaways, will be regularly featured. Our official launch week is the
first week of June
. And it's going to be great—lots of giveaways and interviews with notable bloggers. We are building up the Guidebook right now, so that it will be all fat and happy come June 1st. So buzz on over and add your blog! It's FREE.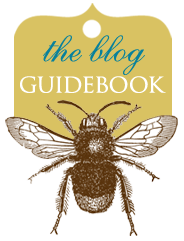 _________________________________
On another note, if you are one of my LDS readers/followers, please send me an e-mail (or leave a comment with your e-mail). There's another great project I want to tell you about! Please put "LDS" in the subject line.
Don't worry. This project is something that EVERYONE will know about soon. There's just some initial information being gathered.
I will be able to share this project at the beginning of July.