GIVEAWAY CLOSED
A WEEK OF GIVEAWAYS CONTINUES...
In celebration of the launch of
Beautify My Blog
, which goes live Saturday, I wanted to give away a few gifts from some of my favorite crafty blogging friends (some of which I have designed blogs for in the past). So stick around this week, and you just might win!
RULES OF THE GAME:
Each daily giveaway will end at
midnight
of the NEXT day.
All winners will be notified by Sunday, August 2. So if you don't hear back the next day about a giveaway from today, don't fret. You may just have won! But keep entering all, just in case. ;)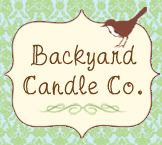 Today we are giving away a 16 oz. candle of your choice from Backyard Candle Company.
They sell all natural, hand poured soy candles.
Visit their blog HERE to see in the ins and outs of candle making, and get an idea of some new scents.
You can view candles in their Etsy shop HERE.
I have quite a few of their candles, and am currently burning Baby Magic (a present when baby Maya arrived). It's a light, fresh, sweet scent that smells intoxicatingly like a new baby wearing lovely lotion. Wes even likes it! That's saying something. Check out some of their new scents for the season
HERE
. YUM!
TO ENTER:
• Leave a comment for one chance to win.
Name and e-mail, please!
• Visit Backyard Candle Company's Etsy site
HERE
and then come back and leave another comment on this giveaway with your fave candle scent for a
second
chance to win.
(Hibiscus and Thai palm?! Yes please.)
• Put the
Beautify My Blog
OR
Backyard Candle Company
button on your blog, then come back and leave the comment
Name:Button
for a
third
chance to win.
• Giveaway ENDS Wednesday, July 29th, midnight.
***And don't forget! You can still enter
THIS giveaway.***