Have you checked out Glitz Design lately? They have a new season out! I design for, and you can design with:
I updated parts of my personal design website here:
And nothing has really changed over at my banner design site
(wait a few weeks and I'll be adding a hot-out-of-the-oven batch of new banners)
. But it's always fun to see what your blog could become:
And guess who's Etsy site is back in biz, with the best Valentine's card I've seen yet: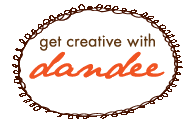 Visit the Dandee Etsy shop
HERE
.